Bocabar will open third restaurant and bar at Finzels Reach next week
News: November 2019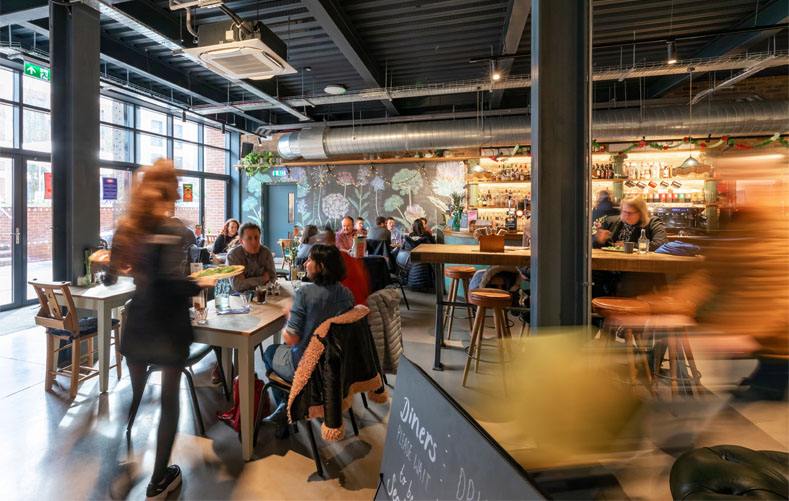 Finzels Reach, one of Bristol's most exciting new social hotspots, is welcoming Bocabar to its waterside community next week.
Bocabar, a Bristol favourite that is well-known for its Paintworks-based site, will open on Thursday November 28th at Finzels Reach, offering breakfast, lunch and dinner, including a new menu of small and big plates focusing on small, local suppliers' seasonal produce, a selection of 20 of the most loved 'Boca pizzas' as well as burgers and salads. There will also be some Christmas specials for lunch and evening diners.
Owners of Bocabar Mel and Paul Eavis, who started the business 15 years ago, have announced the chef team behind the new restaurant and bar. Head chef of its Paintworks venue, Jason McNeilly, will oversee the kitchens at the Finzels Reach site too. He will be joined by head chef Jacob Norris, previously head chef at the Spotted Cow and the Sheppy Inn in Godney, and Ben Sacree, head pizza chef, previously head pizza chef at B-Block.
Melissa Eavis said: "We're ecstatic to be so close to opening our exciting new restaurant and bar at Finzels Reach and we can't to welcome everyone in to try it out. We've brought together the 'best bits' of our Paintworks and Glastonbury restaurants to develop a truly unique menu.
"For us, Finzels Reach was a perfect fit for our business as it's right in the heart of the city and part of an established community of independent cafes and bars – we also love the character and charm of the Fermentation Buildings!"
Open seven days a week, Bocabar will offer a busy social, drinking and dining hub. The inside will have an eclectic feel, combining a vintage and rustic look with a little bit of luxury. Expect velvet drapes in the doorways, vintage lamps and reclaimed wood and copper features.
There will be seating for up to 100 covers, a 'Boca-style' chesterfield lounging area with a mix of rustic wooden high tables and stools, perfect for enjoying small plates and drinks. The terrace will be an ample, part-covered outside seating area with heaters and festoon lights, with 70 seat covers, accessed through bi-folding doors from the main restaurant and bar.
Melissa added: "We can't wait to open the doors, get the ovens on and offer our welcoming warm comfy space for customers to enjoy, we aim to cover everything from coffees, breakfasts, lunches and Sunday roasts to cosy evening dining and cocktails!"
From cocktails to specialist gins, and from local craft beers to wines, Bocabar will offer something for everyone, catering for the growing number of office workers and residents who now work and live in the area, as well as those coming from across the city to relax in this new destination along the Floating Harbour.
Bocabar will be based on the ground floor of the historic Fermentation Buildings, beneath Channel 4, which has now opened its new Bristol Creative Hub. The new Bocabar venue will open onto Hawkins Lane, the new walkway that runs through the heart of Finzels Reach, connecting to Castle Park and the city centre via the striking Castle Bridge.
The Fermentation Buildings are part of the rich brewing history at Finzels Reach, which has been home to several famous breweries over the years, most recently Courage Brewery before it closed in the 1990s. Created by developer Cubex with funding from Palmer Capital, Finzels Reach will have around 2,500 people living and working there by the end of the year.
Gavin Bridge, executive director at Cubex, the developer behind Finzels Reach, said: "It's so exciting to see the Finzels Reach community growing with fantastic new additions such as Bocabar, and recently Le Vignoble as well, joining the neighbourhood. A big welcome to the Bocabar team!"
Finzels Reach has seen Left-Handed Giant and Mission Pizza open with great success this summer, joining established independents Spicer+Cole and Café Matariki. Le Vignoble, the much-anticipated new wine lounge and shop, threw open its doors to the public last weekend.
For bookings, please email the Bocabar team on bocabarfinzels@outlook.com. Their opening times are Monday- Friday, 9am to midnight; Saturdays, 10am to midnight; Sundays, 10am to 11pm.