Cubex achieves BREEAM Outstanding certification for Halo, set to be the greenest office building in the UK
News: July 2021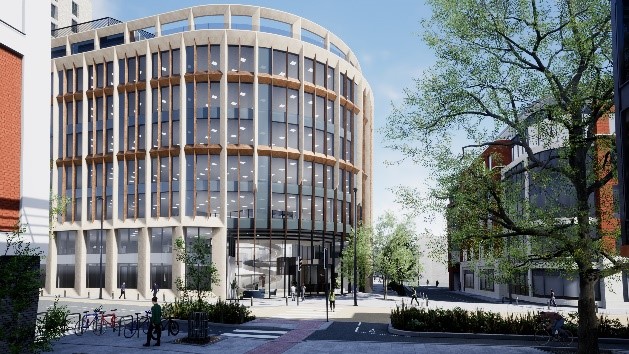 Cubex is delighted to announce that Halo, its latest Bristol office development alongside Fiera Real Estate has achieved BREEAM Outstanding accreditation for 'Shell & Core' and 'Cat A Fit Out', meeting the toughest new sustainability assessment criteria.
This combined score is the second-best score to be awarded in the UK to date, and the first development outside of London to achieve it.
The 116,000 sq.ft Grade A office building is part of phase two Cubex's award winning Finzels Reach scheme in Bristol, which was originally funded by the Fiera Real Estate Opportunity Fund IV, a programmatic joint venture by Fiera Real Estate that is exclusive to clients of CBRE Global Investment Partners (CBRE GIP).
The design of Halo builds on the cutting-edge design of the 95,000 sq ft Aurora office building which is part of phase one of Finzels Reach. Aurora also achieved BREEAM Outstanding under the earlier regime and was recognised for its stand-out environmental and digital credentials.
At Cubex, we recognise that our business and developments impact the environment, the communities where we operate and the people we work and do business with. We incorporate ESG criteria into all stages of our business decision making and Halo is a prime example of the consideration we put into the impact that our buildings have on the health and wellbeing of those who work there.
Features range from roof-top mounted photovoltaic panels to highly efficient LED lighting, rooftop leisure spaces to a bike park and glazed façade to maximise views and daylight. The building is also part of a vibrant, established neighbourhood and will prioritise the wellbeing of those who work there, ensuring a healthier, happier and ultimately more productive workforce.
In addition to its stand-out environmental credentials, the future-focused building will also feature cutting-edge digital connectivity – recognised with the highest 'Wired' Platinum score. Due to the prioritisation of the wellbeing of its future occupants, including international law firm Osborne Clark, we are delighted to confirm that Halo has also achieved it a WELL Certification, one of the first buildings in the UK to do so.
The Grade A office building will cater for around 1,000 staff once complete in early 2022, with international legal firm Osborne Clarke having already agreed a pre-let to take two thirds of the space. Three remaining floors of around 42,000 sq ft are available to let through agents Knight Frank and Lambert Smith Hampton.
At Cubex, in order to meet our commitments and reach our targets, we know that a strong collaborative approach is necessary. Our ESG strategy therefore places strong emphasis on working collectively with third parties, for Halo the occupants Osborne Clark to ensure ESG agendas are met and ongoing progress is made.
We strive to deliver our occupiers' resilient portfolios that positively and responsibly impact the wellbeing of our planet, people and communities.