First deal signed for Halo, set to be one of the UK's greenest office buildings
News: February 2020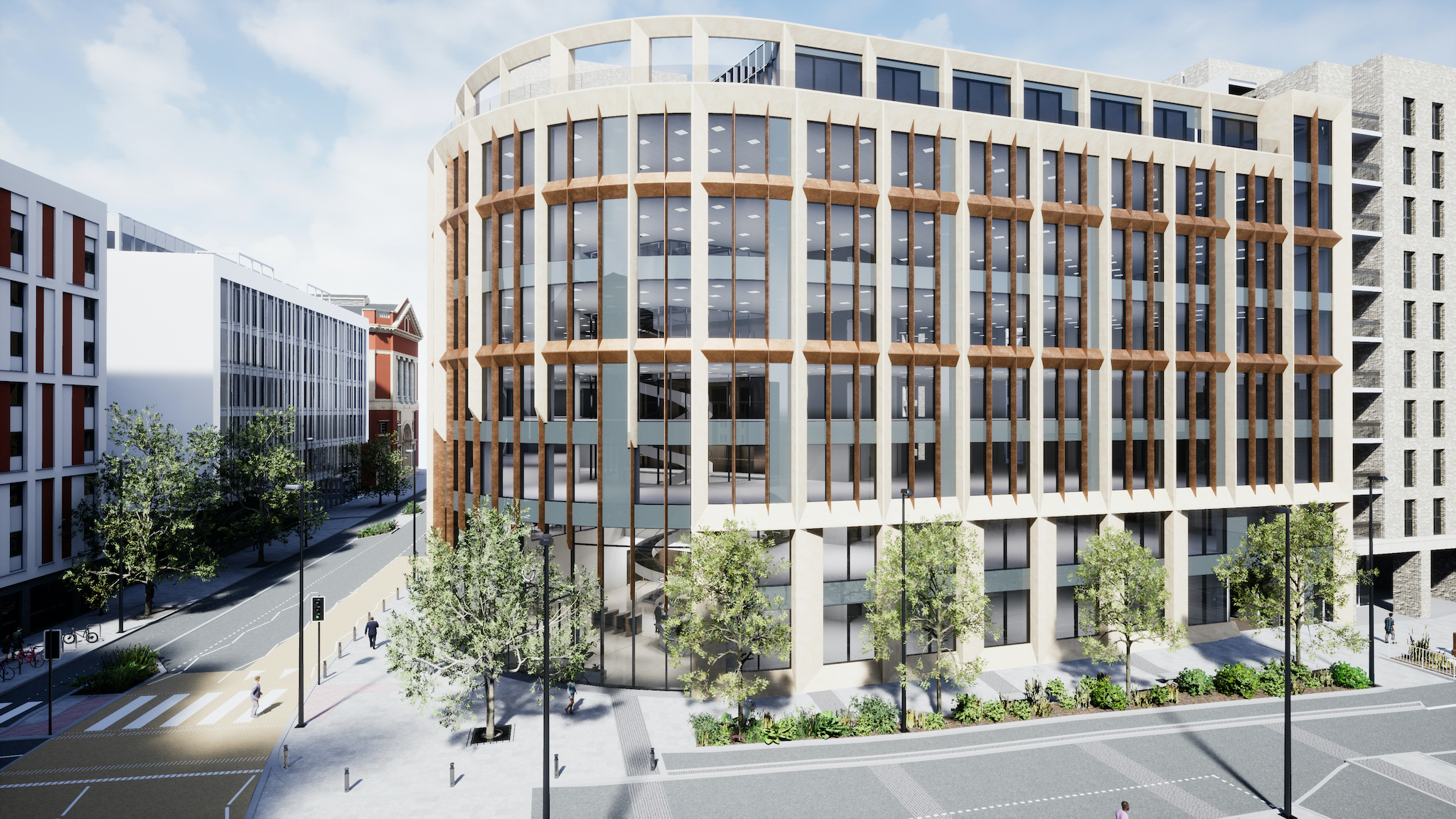 Cubex, funded by Fiera Real Estate, has secured a significant pre-let for Halo, its landmark green office building that will form the next phase of the award-winning Finzels Reach in Bristol.
Osborne Clarke will move its Bristol office from its current location in Temple Quay to Halo. Bristol developer Cubex bought the former Avon Fire & Rescue site, which will be home to the next phase of Finzels Reach, in 2018 on behalf of Fiera Real Estate Opportunity Fund IV (UK), a programmatic joint venture by Fiera Real Estate that is exclusive to clients of CBRE Global Investment Partners (CBRE GIP).
Halo will be one of Bristol's most innovative office buildings and will help cement Osborne Clarke's reputation as a leading technology law firm; it was the first UK law firm to open an office in Silicon Valley 20 years ago. The UK continues to be a strong powerbase for Osborne Clarke which over the last three years has demonstrated impressive year-on-year financial growth. UK revenues surpassed £150M for the first time in 2019.
Osborne Clarke has agreed to take nearly two thirds of Halo – 74,000 sq ft – two years ahead of its completion. The firm will relocate 600 staff from its Temple Quay office into the leading-edge, smart workspace at Halo, taking the top five floors including a private roof terrace.
The deal represents one of the most significant pre-let deals in Bristol over the past year. Osborne Clarke has signed a 12-year lease at £35.50 per sq ft for four floors and £36.50 per sq ft for the top floor with roof terrace.
Halo is a smart Grade A office building of 116,000 sq ft being developed by Cubex and funded by Fiera Real Estate. It is being constructed across the road from the first phase of Finzels Reach, a growing city centre quarter acknowledged as one of Bristol's most successful regeneration projects. Halo is set to be one of the greenest office buildings in the UK, targeting a BREEAM Outstanding accreditation to meet the toughest new sustainability assessment criteria. It will take a similar design approach to Aurora at Finzels Reach, which was also recognised for its stand-out environmental and digital credentials.
Before choosing Halo, Osborne Clarke carried out an extensive employee consolation to ensure any new office would meet the needs of its people. Osborne Clarke has consistently been recognised for its outstanding culture by legal website RollOnFriday and at the Managing Partner Forum Awards. In line with these values, the new building will have a greater focus on employee wellbeing, with key features including the outdoor space on the rooftop, a bike park, and a glazed façade to maximise views and allow daylight to fill the space.
Halo's modern features will complement Osborne Clarke's future-focused brand. Halo features a unique corkscrew-like staircase rising up through a glass atrium, with highly efficient LED lighting, roof-top mounted photovoltaic panels – and even a drone landing pad. The building's modern design will maximise space with excellent digital connectivity, allowing Osborne Clarke's employees to move to a 'connected working' style, which has already been adopted in its London and Reading offices.
Osborne Clarke has a long history in Bristol stretching back to 1748, and September 2019 marked 50 years since two of the oldest law firms in Bristol – Osborne Ward and Clarke Gwynn & Press – merged and created the firm named Osborne Clarke. From its Bristol beginnings the firm now has international offices in Europe, Asia and the US. The firm moved to Temple Back in 2002 from offices in Queen Charlotte Street. At the time Osborne Clarke employed around 470 people.
The move will see Osborne Clarke join leading organisations such as Channel 4, Historic England and English Heritage, Simmons & Simmons, Barclays, EDF and Bafta-winning BDH at Finzels Reach. This growing neighbourhood, with new homes, a hotel, and workspace, is also a fast-emerging social hotspot, home to Finzels Reach Market, Left Handed Giant, Mission Pizza, Pacific Yoga, Café Matariki, Spicer & Cole, Bocabar and Le Vignoble.
Ray Berg, managing partner of Osborne Clarke UK, said:
"We're incredibly excited to have Halo as our new Bristol home. Its standout design and sustainability credentials are a perfect fit for us as we look to invest in a new building that will take us into the future and create an exciting working space for our people and clients.
"Bristol is widely thought of as the UK's second centre for law and maintaining a strong base in the city will be vital to our business strategy and ongoing success. In the time we've been on Temple Quay, the firm has grown considerably; we're now a €300m business. We've opened many new offices internationally but remain firmly committed to the UK and Bristol."
Peter Walford, director at Cubex, said: "We are thrilled that Osborne Clarke is on board at Halo so far in advance of the completion of this cutting-edge new office building for Bristol. It's hugely satisfying to see the success of Finzels Reach to date and we are proud that Halo will set new benchmarks for sustainability, wellbeing and digital connectivity.
"It's very exciting to see work on phase two of Finzels Reach forging ahead, with this new deal an important catalyst for the regeneration of this brownfield site in Bristol's medieval heart. We are in talks with other potential occupiers of Halo and expect to make new announcements soon."
Steve Wright, director at Fiera Real Estate, commented: "We are delighted to have secured an occupier who shares Fiera Real Estates' passion to create new buildings that offer superior wellness, sustainability and smart criteria to much of the existing standing stock. We have ongoing requirements for similar schemes through our new value-add fund, the Fiera Real Estate Opportunity Fund V (UK), which targets lot sizes of between £5m – £25m."
Knight Frank and Lambert Smith Hampton are the lettings agents on Halo. Morton Property Consultants advised Osborne Clarke on the deal.
Fund manager Fiera Real Estate has provided the finance for Cubex for the next phase of Finzels Reach, following their successful partnership on the first phase.