Cubex, Fiera Real Estate and Abri partner to deliver 66 affordable homes in central Bristol
News: January 2021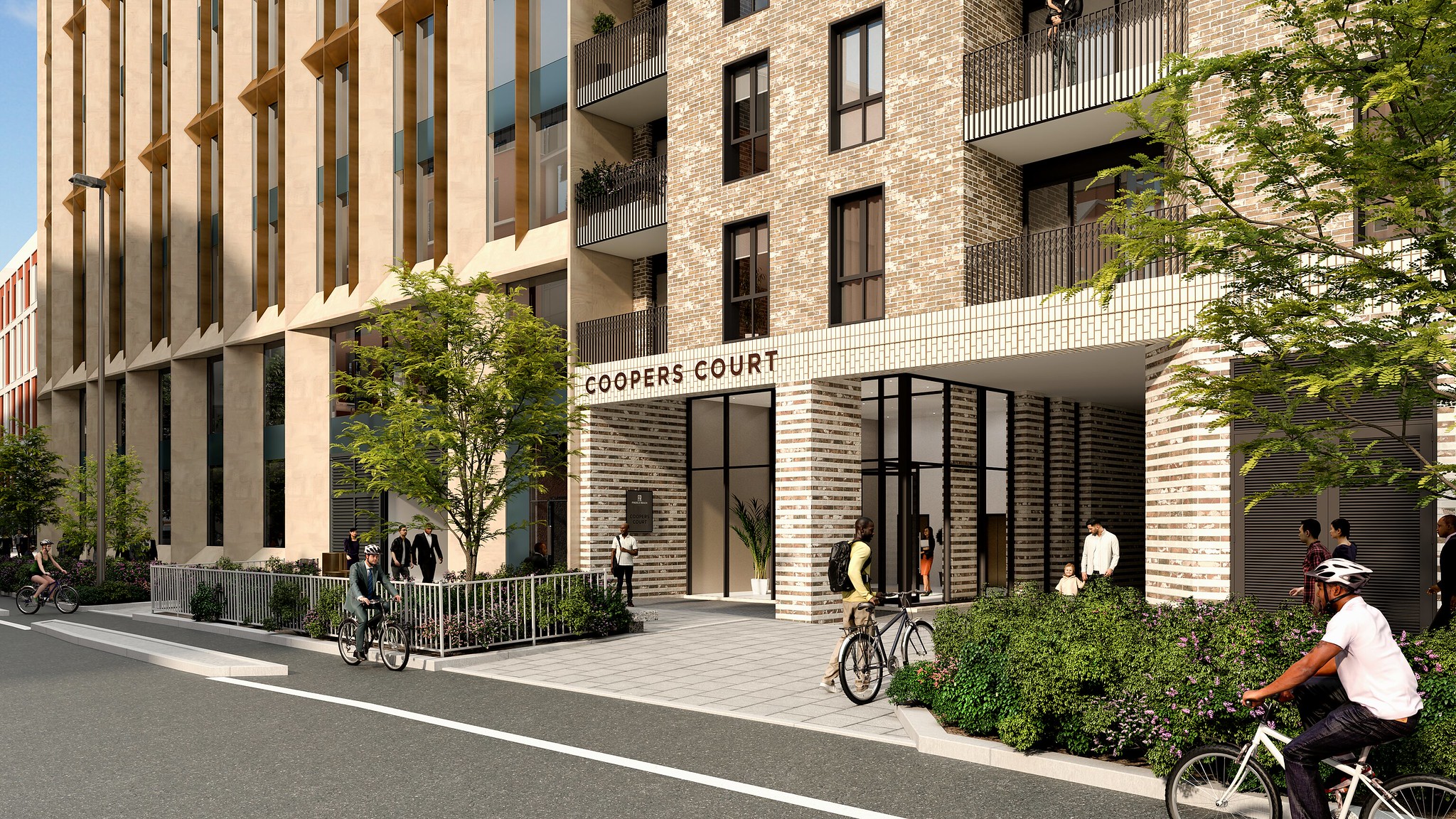 Cubex, backed by Fiera Real Estate ("FRE UK"), has exchanged contracts with housing provider Abri to deliver 66 affordable homes at Coopers Court as part of the wider award-winning Finzels Reach mixed-use community.
Coopers Court, which represents over 20% of the homes being delivered on the second phase of Finzels Reach, consists of 48 homes for the social rented market and 18 for shared ownership. Together, these provide an opportunity for first-time buyers to get on the property ladder and contribute to addressing the housing crisis in Bristol. Twenty per cent of the new apartments will be 'affordable homes' in line with Bristol City Council's policy for new developments in this area. All the apartments will be built to the same high standards throughout.
The scheme has been designed to create a strong identity and sense of place, whilst ensuring it connects well to the surrounding area and works with heritage buildings nearby. Significant investment in improvements to the area around Coopers Court, including new landscaping, pedestrian and cycle routes, will help create a more attractive area and foster a sense of community.
The sustainable and energy-efficient building connects into Bristol City Council's District Heat Network and includes a bio-diversity roof amenity space, 94 cycling spaces and only four car parking spaces to help tackle the environmental crisis.
Construction, through Willmott Dixon, will commence onsite in January 2021 and residents will be moving in during 2023. The scheme contributes to Abri's growing development programme in Bristol including 75 homes being delivered at Castle Park View, 31 homes at the previously derelict Speedwell Swimming Baths, 42 apartments on Dean Street and 36 affordable homes at the former Elizabeth Shaw chocolate factory.
Cubex bought the former fire station site in summer 2018 on behalf of Fiera Real Estate Opportunity Fund IV (UK), a programmatic joint venture by FRE UK that is exclusive to clients of CBRE Global Investment Partners (CBRE GIP). FRE UK is currently fundraising for FREOF V, targeting £250m of value add and opportunistic real estate transactions in the UK.
Elgan Jones, associate director of Cubex, commented: "This deal represents 20% of the homes being delivered under the second phase of Finzels Reach and marks an important milestone for us in our journey to transform this once-derelict city centre site into a vibrant new quarter, providing high quality, unique places for people to live, work and socialise.
"With work on these new homes starting on site imminently, we are pleased to be supporting local construction jobs and contributing to building confidence in the economy during an extremely challenging time. As a mark of our confidence, Cubex is currently in the market for more sites and is looking ahead to future development opportunities under a similar partnership structure."
Steven Wright, director of FRE UK, commented: "The sale represents the completion of the second phase of Finzels Reach where Cubex and Fiera Real Estate have developed (or realised) over £400 million worth of assets. This has converted a derelict under-utilised part of central Bristol into a thriving hub delivering a vibrant 24/7 community in over 400,000 sq ft of commercial space (including two BREEAM "Outstanding" offices buildings), 400+ apartments and a new hotel. We look forward to securing similar new opportunities on behalf of the Fiera Real Estate Opportunity Fund V, which is active and currently investing."
James Pennington, director of development at Abri, said: "It's great to be collaborating on such a substantial project in the heart of Bristol and helping to provide affordable homes for local people in a central location. With a mixed-use development of this scale, it's important the homes form part of the community and we hope to add real value to the community by providing quality and sustainable homes that meet the aspirations of everyone coming to live here."
Finzels Reach is one of the largest mixed-use developments in the South West. The first phase includes 440 new apartments, 240,000 sq.ft of office space including two Grade A office buildings, a 168-bedroom Premier Inn, plus a host of cafes, restaurants and a microbrewery across 30,000 sq.ft of space. The second phase on the former fire station site incorporates nearly 300 homes.
Sustainability is at the heart of Cubex's development at Finzels Reach. The Grade A office building Aurora in phase one was the first building outside of London to achieve BREEAM Outstanding under the 2014 New Construction Offices Scheme and Halo, the smart Grade A office building on phase two, is also targeting BREEAM Outstanding and is set to be one of the greenest office buildings in the UK.