ESG was a 'tick in the box', now it's a mindset
News: June 2021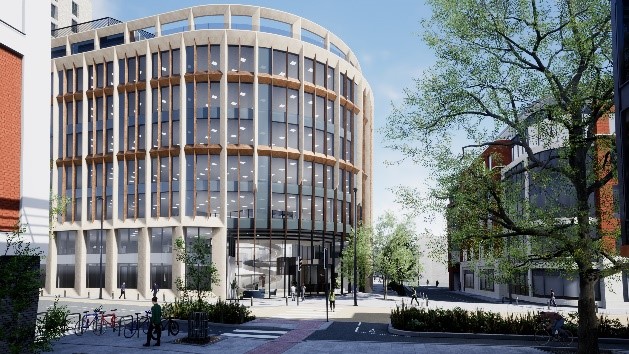 By Peter Walford, managing director at Cubex
Interest in Environmental, Social and Governance (ESG) principles is by no means new, but it has certainly accelerated significantly over the last year. Key drivers of this shift include new legislation, pension fund investors asking for the ESG credentials of their investments, and much greater awareness of environmental issues, accelerated by the pandemic, with the role of the likes of campaigners such as Greta Thunberg and David Attenborough not to be underestimated.
In the offices market, as we look ahead to the easing of lockdown in the coming months, ESG is more important than ever, both from an occupier and investor perspective. Let's take the former. The changing face of working practices will undoubtedly see increased flexibility and, most likely, a hybrid model of office and home-based working emerging. Smaller businesses may well opt for serviced offices or coworking models to allow flex in their businesses. However, for most larger corporate occupiers, the question is not whether to return to the office at all, but how to attract staff back in?
In Bristol city centre, high quality office space is still in short supply. Knight Frank reports there is just 548,000 sq ft of office space under construction, of which 200,000 sq ft is already let to BT, 74,000 sq ft to Osborne Clarke, representing two thirds of Halo, the new landmark office building we are creating at Finzels Reach, and 8,500 sq ft to AHMM at Portwall Square. This leaves just 265,500 sq ft of new space being delivered to market over the next 24 months. Engaging, stand-out, sustainable office space that enables collaboration is in high demand both from staff and their employers, who are upping their game to retain and attract them. This will undoubtedly drive a flight to quality accommodation for occupiers who want to incentivise their employees back to the office.
ESG, a toolbox of criteria ranging from impact of assets on communities to diversity and conduct, and of course environmental factors such as energy sources, is no longer a 'nice to have' or a 'tick in the box'. Investment wise, property assets are benchmarked using these principles. All the larger institutional investors and the majority of large property companies and developers, alongside many progressive smaller businesses are signed up to ESG as part of their core business strategy. In due course, it will become intrinsic to all businesses.
Legislative changes have certainly played a role. The latest MEES regulations mean that an EPC rating of E or higher, must be achieved on commercial buildings and now on domestic properties being rented out, with the direction of travel only going one way. A new reporting regime is also coming into force, requiring pension scheme trustees to put measures in place related to climate governance, strategy and risk management. It's no longer just about being green, it's about managing risk. Indeed, our sustainability consultant Fleur Baguley, of Carbon Consult, reported one of her busiest years last year.
At Cubex, we strive to incorporate ESG criteria into everything we do. Our latest project at Halo is no different. It is set to be one of the greenest office buildings in the UK and the most sustainable outside London, and has achieved a BREEAM Outstanding accreditation to meet the toughest new sustainability assessment criteria. From roof-top mounted photovoltaic panels to highly efficient LED lighting, rooftop leisure spaces to a bike park and glazed façade to maximise views and daylight, not to mention the fact it is part of a vibrant, established neighbourhood, Halo prioritises the well-being of those who work there, ensuring a healthier, happier and ultimately more productive workforce.
We've learnt through the pandemic that flexibility is to be cherished, but also that the workplace has a role far beyond providing four walls within which to work. Let's look forward to this new era and all the benefits it will bring for people, society and the world at large.
With thanks to Fleur Baguley of Carbon Consult and Andy Smith of Knight Frank for their input.