Q&A with React News: What happens when you sign a prelet on the eve of the pandemic?
News: August 2021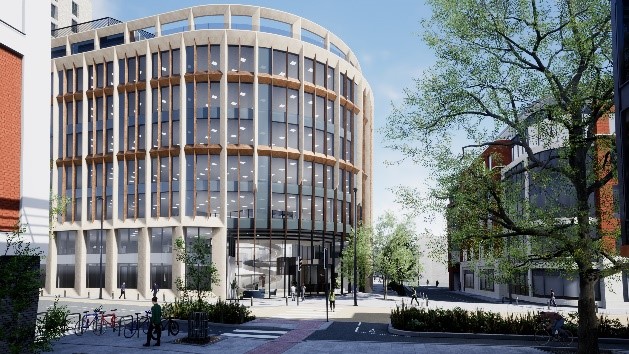 Published by React News in August 2021.
Osborne Clarke's Tim Simmonds discusses the law firm's move to Halo in Bristol with Cubex's Peter Walford and Steve Wright from Fiera Real Estate.
The law firm Osborne Clarke signed a prelet to take 74,000 sq ft at Cubex's Halo building for its new Bristol office right on the eve of the Covid-19 pandemic in February last year.
Since then, its lawyers and support staff will have spent precious little time in the office. The experience of having to work from home for months on end has sparked much debate on the future of the office and whether corporates will scale back their space requirements.
For Osborne Clarke partner Tim Simmonds, he has no regrets about the amount of space the firm is taking at the Halo building, but that is not to say that its priorities and thinking about the new office haven't changed since signing the deal last year.
Simmonds was joined by Cubex manging director Peter Walford and Steve Wright, director at Fiera Real Estate, which funded the Halo development, to discuss what drove the decision to move, what has happened since and how tenant priorities are changing.
As well as talking about the impact of Covid, they also discuss the importance of sustainability – Halo has just achieved BREEAM Outstanding accreditation, and less obviously, the role that stairs and even drone pads play in the modern office.
Why did Osborne Clarke choose Halo for their new offices?
Tim Simmonds: We were looking at options for when the current lease ends on our property. We were really keen to find somewhere where our people wanted to be. We thought that our current office, which we've been really happy in for a period of time, probably needed to change a little bit.
We needed something which was a bit more attractive to staff and ranked better in terms of sustainability, diversity, inclusion, biodiversity, and its actual location. People were saying to us, we like what's going on with Finzels Reach, the neighborhood there. It's a bit more active, it's a bit more happening.
Steve Wright: It's credit to Cubex. They've created a 24/7 development at Finzels Reach where you've got residential, bars and restaurants, a hotel and offices. It has shifted the focal point of Bristol. It's only five minutes away from Osborne Clarke's existing offices but it feels like a world apart.
Did the pandemic affect Osborne Clarke's thinking at all?
TS: It didn't affect our space requirements at all because I think we were pretty clear on what we needed from a space perspective early on. We already operated quite flexibly and had already started to plan for that before Covid.
I think what Covid has really emphasized to us is the office as a destination is really important to consider. What we're going to find with lots of firms is that unless people want to go in, they're going to have empty offices.
So all that Covid has shown us is thank goodness we've decided to move because we'll have a great new office that people will want to go to. We've started doing lots of roadshows now around the firm, showing people images of what the fit-out is going to look like and everybody is saying "that's amazing".
What people have really missed during lockdown is collaboration, so we've focused a lot on informal collaboration spaces. Not just the meeting rooms, but places where you can sit down and work together. We've got a lovely cafe area and terrace, which people really like. And then there are little things like we've got a yoga studio and a spin studio, for example. They are things that give people an extra reason to come into the office.
Have your assumptions around desk density changed?
TS: We've always been really conscious about desk density and not putting people into an overly dense office space. Now I suspect to be honest, Covid probably hasn't changed things that much, but we've been really focused on it during the design process, and we keep looking at the headcount, and saying "have we got enough desks?"
The reality is nobody knows how many desks you may want five years down the line, but we've been consistently saying "no, we don't want to increase the density here because we recognise that people want more space". I think having some of those more informal breakout spaces also helps with that because what you don't want is people constantly turning up and using the same desk again and again.
How has the pandemic affected Cubex's thoughts around future office developments?
Peter Walford: Location, location, location is the key criteria for me. People want to be in a place where it's enjoyable to go out so our focus will be on city centres, whether that be in Bristol, Exeter or elsewhere in our region. I do have worries about out-of-town offices and whether people can be persuaded out there.
The office is not dead and you'll get lots of agents telling you that, but I believe it because I think there are those in our generation who can afford to work at home comfortably but the younger generation simply cannot. They're not being trained properly, they're not being mentored and they're not being motivated in the same way as in an office environment.
How important is sustainability now for occupiers and developers?
TS: For us, it was really important. It has been a part of our DNA for a very long time. We've done a lot of renewable energy work well before others moved into the sector and we've got a big sustainable business group, which has been active for 25 years. And so as part of our move decision, we spent a lot of time talking to the sustainable business group and the wider business about sustainability credentials.
SW: Fourteen years ago, we tried to launch a green fund but it was just a bit too early. Now occupiers are demanding high quality, sustainable space, and it's something that their staff are demanding too. It's become something that's essential for recruitment and retention.
PW: And the same is true of funders. As trader developers we have to have an eye not only on letting a building but also moving it on. Doing the forward funding with Tesco Pension Fund, it was an absolute priority for them. They are doing an increasing amount of work on other assets that they own about how they might improve the overall sustainable qualities of those as well.
Are there any other features of the building that made it stand out?
PW: The feature staircase stands out for me. Some people may say it's a non-event, but actually walking between stairs is such an important part of people's active day. I think you'll find a lot of people will use that, partly just to get their exercise, and when you've got a glorious staircase as we have in Halo even more so.
TS: I don't know if we mentioned it to you at the time, but one of the reasons we decided to go to Halo was that staircase. Our people like to see their colleagues and they want to see them moving around between the floors.
You don't want to be in an office building where you go onto floor seven, and you've got no idea who is on floor eight or floor six. The open staircase really allows that because you see people moving around – you see someone is in today and pop down to see them rather than just be stuck on your floor.
SW: It is definitely an additional investment in the building because whether it's in terms of lost floor area or the cost of the staircase, they don't come cheap. That's why it's great that you mention it Tim.
What is the thinking behind the drone landing pad?
PW: We were the first to invest in a drone pad on the Aurora building. We used it for marketing purposes at the time, but in all seriousness, what we're finding is that we might be able to rent that space out to a drone company who does building surveys and the like, because actually getting a license for the ability to park a drone in a city centre is really quite challenging.
So if you've got a base on which you can start from and use it, that is far more than just being a gimmick parcel delivery dream. I'd like to hope that in time, it might have genuine beneficial use for the occupies of the building, but that will evolve, and Osborne Clarke and others will find ways of using it.